Wedding planning includes so many pieces leading up to your day and one of the biggest ones to happen before you say I do is designing your custom stationery! So today, I'm excited to share some expert advice and tips from a pro!
Lynn Graham is the sole proprietress of her custom stationery company. She's an amazing artist and experienced professional who can help couples create a custom paper suite for their wedding that is unique to them and best represents the look and feel they are dreaming of for their wedding day. You can learn more about her and her services here.
After all, your wedding invitations are the first impression for your wedding – so you want them to stand out and be true to who you are as a couple. They'll set the tone for your wedding day months before the date arrives and you want them to be both beautiful and functional so guests are inspired and excited to attend your wedding and celebrate your love, but also get all of the details they need to actually be there with you that day!
Today I'm thrilled to have Lynn share some helpful knowledge, tips, and a few of her favorite things with you so you know exactly what custom stationery is all about, what the process is like, and why it may be just what you're looking for!
Lynn and I met a while back but haven't had the chance to work together yet. We have our first wedding coming up this weekend(!), but for now I'm sharing some of her designs captured by other photographers so you have a chance to see her work. All other photographers are credited with their photos.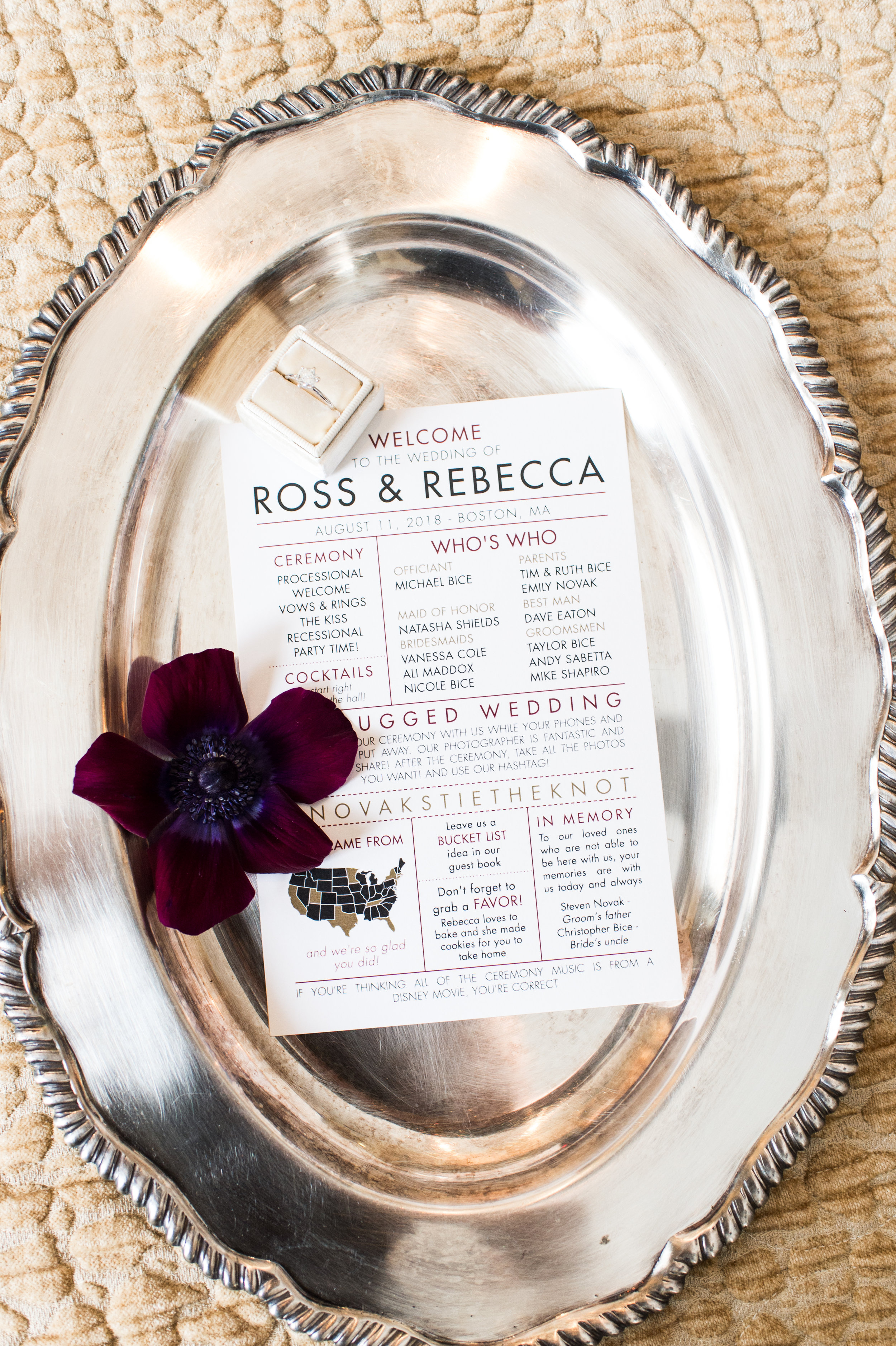 Lynn Graham Designs Day-of Stationery for the wedding of my sweet couple Rebecca & Ross !
1) How is working with you or another custom stationer different than going to a store or designing an invitation suite online with a retail provider like Minted.com?
Working with a custom stationer ensures that your suite is custom to your wedding and no other couple will have the same invitations as you! Also, working with a custom stationer allows you to have cohesive stationery from start to finish. This way your save the dates, invitations and all your day of stationery will reflect your wedding "brand", and nothing will look out of place or just haphazardly there. There's a lot of information that goes into your wedding stationery, so having a personalized experience with an actual custom stationer will help make this process go more smoothly and is definitely more fun than trying to imagine colors and fonts on your own, on a website.
2) What are your favorite elements of a paper suite to design and why?
I love a great envelope liner in the invitation suite. It adds a pop of color and can be a little different than the invitation piece itself! I also love designing any day of stationery. I think couples tend to forget about day of stationery and it's important to set aside part of your budget for it. When you put the time and investment into custom day of stationery pieces, you're really personalizing the day with those thoughtful pieces. It makes guests feel special and that you put a lot of thought into catering to them. It's always nice to see a menu at each place setting so you can anticipate what you'll be served. A program at the ceremony is also nice because it will walk guests through the order of the service. A unique escort card display is also one of my favorites!
3) What advice can you give to couples in terms of a timeline for starting the invitation creation process, sending save the dates, sending invitations, and finalizing day-of items like place cards and menus?
If you're looking into using a custom stationer, the process takes longer then purchasing something online, but it is well worth the time! I recommend booking me 4-5 months prior to the mail date. If you already have sent out a save the date, I recommend you booking me 3-4 months prior to the mail date. Invitations should be sent out 6-8 weeks before the wedding, so you're looking at reserving my services 6-8 months out. We usually talk about day of stationery after the invitation is mailed out, so the process isn't so overwhelming upfront. I like to approach the day-of stationery piece meal, so I usually present menu, escort card, table number and sign designs first. Then I give clients some time to gather program wording and design the program. Last, but not least, the table arrangements need to be submitted 2-3 weeks prior to the wedding. But I like to have everything else taken care of, so the last thing you'll have to work on is the table arrangements. It really goes very smoothly and with me handling all of the printing and assembly, it's a lot less stressful for everyone!
Lynn Graham Designs suites captured by Courtney Elizabeth Media (left) & Zev Fisher Photography (right)
And I truly love capturing my couple's wedding stationery because it does say so much about who they are as a couple and the special touches they have in store for their day! I ask my couples to bring a copy with them on their wedding day so that I can style and photograph it with the rest of their details. Below are a few photos I've taken of the pretty stationery my couples have chosen for their weddings.